Hazuki Shinonome (東雲 葉月, Shinonome Hazuki?) is the younger sister of Satsuki Sakurada as well as the aunt of the nine Sakurada siblings. She is a supporting character in the Joukamachi no Dandelion series.
Appearance
Hazuki is a woman in her late thirties with short, straight, bobbed dark blue hair and royal blue-colored eyes. Aoi inherited most of her looks from Hazuki.
Personality
As a teenager, Hazuki was very responsible and would often help her older sister with housework like cooking and cleaning. She was also very soft-spoken, kind, and considerate. She would look after her younger siblings and make sure that they would eat well and not be picky.
As an adult, Hazuki has matured but she still has her former personality as well. She is shown being very affectionate with Akane and Hikari, and she refers herself as being quite old. She was also happy seeing her sister, as well as her nieces and nephews and became surprised but proud of their growth.
Background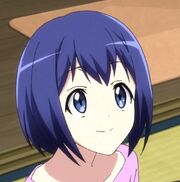 Hazuki is the third child and the second daughter born to Daigorou Shinonome and Chieko Shinonome. As one of the oldest siblings in the Shinonome household, Hazuki would often help Satsuki when their parents were out working. The day Satsuki met her future husband Souichirou, Hazuki was seen being very surprised by the fact Satsuki brought home a boy, however, Hazuki was still very kind and polite towards Souichirou. When Hazuki asked if he was Satsuki's boyfriend, she denied it. The family then had dinner with Souichirou.
Plot
Hazuki is first introduced when the Sakurada family decided to visit the Shinonome family at New Years. Upon seeing Akane, she noted that she was still small as ever and proceeded to hug her, where she mistakenly thought she still was a middle schooler when she would actually enroll at a college in spring. When seeing Hikari, she was surprised by her growth, and this time she mistook Hikari as a high schooler, with Akane commenting it being weird as she is older than Hikari.
Relationships
As one of the oldest siblings in the Shinonome household, Hazuki and Satsuki had a very close relationship as sisters. They would often help each other at home with cleaning, cooking and other chores. They trusted each other and could freely talk about various topics.
Trivia
Hazuki (

葉月

?

) is the old Japanese word for the month of August.
Community content is available under
CC-BY-SA
unless otherwise noted.