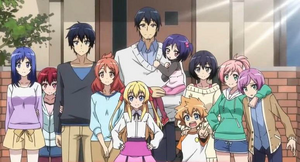 The Sakurada family (櫻田家, Sakurada-ke?) is a royal family that resides in town. Despite being royalties, the family has a very "normal" life. The protagonist, Akane Sakurada, hails from this family. Because of their status as a royal family, each member with Sakurada blood possess an unique power. It is one of the families featured in the Joukamachi no Dandelion universe.
Background
Souichirou Sakurada became the king at only sixteen years old since his father, the king before him, passed away. The country didn't have a queen either as Souichirou's mother passed away when he was a little boy. Thus, Souichirou had to take over the throne. He didn't have any siblings and admitted that he felt a little lonely sometimes. Because of his status, he didn't have many friends in his first high school year. However, this changed when he met a second-year student at Royal Sakuraka High School, named Satsuki Shinonome. They eventually fell in love and got married, and because of Satsuki's big family, Souchirou wanted many children as well, so his children didn't have to feel lonely as he did.
Plot
Souichirou Sakurada and Satsuki Sakurada had nine children together. Although being a royal family, the Sakurada household lives a very normal life in a normal household. The children goes to public schools where they are treated like any other student. They help each other with various chores at home due to their big family. However, there are over 2,000 cameras all over town to check the siblings activities.
Souichirou decided that when Aoi Sakurada, the oldest sibling, graduated from high school, they would hold an election for the nine Sakurada siblings to take over Souichirou's throne as the king. The campaign started in April, while the results would be announced in March. Over the year, all the siblings worked hard to become king while facing their own struggles, but also developing as a person. The citizens would vote for one of the siblings to become king. Near the end, Souichirou admitted that the reason he wanted to hold an election was for his children to realize their own paths, as they have plenty of paths, unlike himself.
Shuu Sakurada, the first son and second child, became the successor of his father Souichirou, winning the election.
Members
Political members
Other members
Etymology
The surname Sakurada literally means "cherry tree, cherry-blossom" (櫻) (sakura) and "field, rice paddy" (田) (ta/da).
Trivia
Misaki's clones can be considered a part of the royal family, but they are just technically a part of Misaki Sakurada.
Although the whole Sakurada family made their debut on the first episode in the anime, the characters had separate debuts in different chapters of the manga.